【22" Flex Shaft】Fits on all shaft-type prods. Features flexibility to resist backlash force of animals. New large white collar nut is to deal with damage. Two brass probes release a high voltage pulse. Use on livestock only. Including the prod handle, the whole unit is in 22 inch in length. Actual length of shaft is 11.5 inch (292mm). Other four sizes for your option, 32inch, 36inch, 42inch ad 52inch.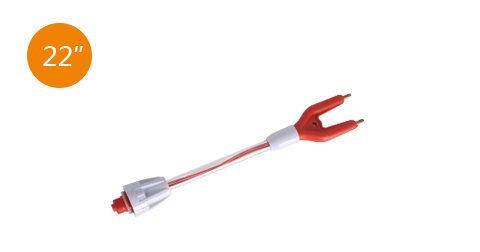 【32" Flex Shaft】Interchangeable between the Rechargeable and battery-operated prods. Flexes to respond backlash force from livestock. The white attachment nut with non-slip flange to tighten the handle. The whole length with prod handle is 32 inch. Length of shaft is 21.5 inch (546mm). Different four sizes for your choice, 22inch, 36inch, 42inch and 52inch.
【36" Flex Shaft】Fits on Linher Electric Livestock Prods. Able to bend without breaking. Inserted brass prongs for longer life. Upgraded whit collar nut to overcome breakages. Brass prongs present positive results. Different size prods will be selected by users depending on their job at hand. 22inch, 32inch, 42inch and 52inch are available.
【42" Flex Shaft】42 inch extension including the prod handle. Allow you keep a safe working distance from all livestock. Made of poly carbonate. The wand can be bent up to 180 degrees angle. Double layer high-strength insulated wire to to enhance the wand's flexibility. Another 4 sizes to meet you different requirement, 22inch, 32inch, 36inch, and 52 inch included.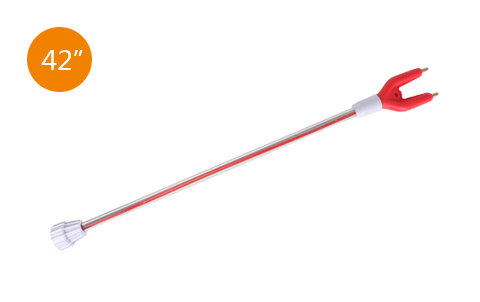 【52" Flex Shaft】The longest extension for Linher manufacturing. Withstand bending up to 270 degrees angle. Poly carbonate pole and double layer high-strength insulated wire to make the wand more tough and flexible. Fits on both battery-operated prods and rechargeable prods. Inserted brass prongs to present positive results. Length overall is 41.5 inch( 1054mm), excluding the prod handle.